Scivation makes an amazing pre-workout mix called NOVEM. I decided to give this product a run for its money. I recently competed in a Bodybuilding show and the number one thing that hinders a great workout while prepping for a show is lack of energy! As a Bodybuilder depletes himself/herself down to very low body fat levels the first thing to go is usually energy levels.
So what can someone do about that? You can take NOVEM!
SCIVATION NOVEM
is the only nervous system stimulating, muscle potentiating and protecting formula to provide maximal energy and intensity so you can charge through the most extreme workouts, and rapidly resynthesize ATP, buffer ions and reset muscle firing to increase workout volume and maximize muscle overload.
This product not only gave me all the energy I needed to have great workouts, but it also tasted like heaven! one of the best tasting Pre-workout drinks I've ever tried.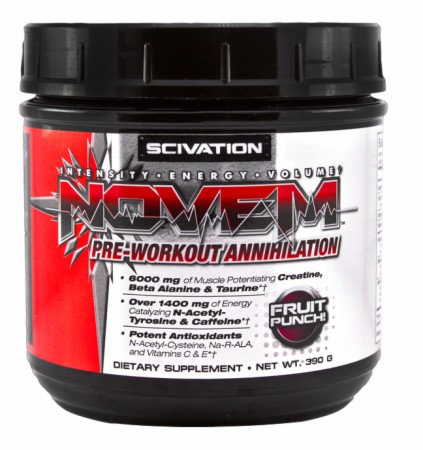 Flavor: 10 out of 10!
Mix ability: 9 out of 10!
Energy, drive, focus: 9 out of 10!
Give NOVEM a try and I promise you will not be disappointed!
Here's to a new you!
Matthew Eubanks
Read more »