Scivation XTEND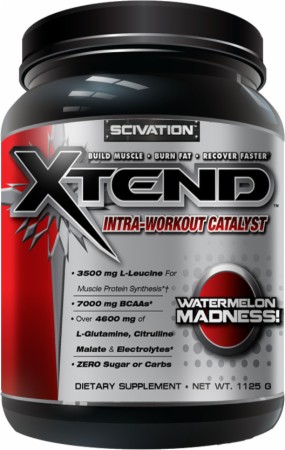 Click Image To Order
Q: What is Xtend?
A:
Xtend is the ultimate, sugar-free, BCAA-containing drink mix to be consumed during exercise. Whether you're a physique athlete, strongman, powerlifter, traditional athlete (e.g., football, basketball, baseball, soccer, etc), endurance competitor, or just looking to significantly change your body composition through resistance training and nutrition, Xtend is ideally formulated to maximize training intensity and support your goals. Xtend was the first and has become the most well-recognized and used intra-workout catalyst product because it not only works... but it tastes great too!
Xtend contains an incredible
:
•7000 mg of BCAAs in an ideal 2:1:1 ratio of Leucine:Isoleucine:Valine
•3500 mg of Leucine
•2500 mg of Glutamine
•1000 mg of Citrulline Malate
•1171 mg of Electrolytes
•640 mcg of Vitamin B6
•And,
ZERO
Carbohydrates or Sugar
Xtend was recently reformulated to dramatically improve taste and ingredient solubility - Xtend is now spoon-mixible - and to provide added functionality for workouts or events under the most grueling of conditions. Xtend is available in 6 mouth-watering, refreshing fruit flavors to make every workout an incredible one.
Q: When's the best time to consume Xtend?
A:
Two university studies suggest that Xtend is significantly effective at increasing muscle mass and strength, and reducing body fat when consumed during exercise or immediately prior to and after training.* It's recommended that you begin consuming Xtend immediately prior to, and continue sipping on Xtend throughout your training or competition. Many users also report significantly improved gains when Xtend is consumed immediately upon waking-up in the morning and/or sipping on Xtend throughout the day.
Q: How much Xtend should I consume for it to be most effective?
A:
For best mixing results and taste, pour 8 fluid ounces of filtered water into a shaker cup. Add 1 scoop of Xtend. Cover or close the shaker cup. Swirl the shaker to create a vortex effect and draw the Xtend powder into solution. Then, once the Xtend powder has fallen into solution, shake vigorously for about 25 shakes. Enjoy! For endurance athletes that may add Xtend to their hydration pack, it is recommended that Xtend be mixed in a shaker cup or pitcher and then poured into the hydration pack (as opposed to mixing directly within the hydration pack, as doing so may cause the hydration tubing to become blocked). NOTE: If you find that some of the BCAA material settles at the bottom of the shaker cup, you may not have used the correct dilution ratio of 1 scoop of Xtend per 8 fluid ounce of water.
DOSING CHART
MEN
Up to 200 lbs 2-3 Scoop per day
Over 200 lbs 3-4 Scoops per day
WOMEN
Up to 125 lbs 1-2 Scoops per day
Over 125 lbs 1-3 Scoops per day
The flavor and effectiveness of XTENDXTEND but have fallen short. Give it a try today, you will not be disappointed.
Here's to a new you!
Matthew Eubanks
Read more »