Universal Nutrition HRT Stack!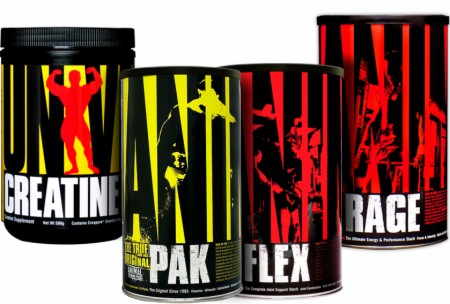 *What is it?
The HRT stack is a combination of 4 top quality supplements that will fuel your workout like nothing else!
*What's in it?
Animal Flex
Like other Animal supplements, is complete and comprehensive. Each pack of Animal Flex consists of several key protective complexes: (1) a joint construction complex to help repair connective tissue; (2) a lubrication compound to help cushion the joints from lifting; (3) a support complex to help promote recovery; and (4) an essential vitamin/mineral blend to underscore optimal joint health.
Universal Animal Pak
Since August 8, 1983, Animal Pak has been helping competitive bodybuilders get the most out of their freakish training routines by providing all the nutrition they need, plus some they didn't know they needed. For 27 straight years, people like you have made Animal Pak the #1 selling training "pack" in the world. In fact, more competitive bodybuilders have cut their teeth on the Animal Pak than any other bodybuilding supplement in history. Why? Simple. Animal Pak gets the job done. It works. First time.* Every time. Animal Pak has stood the test of time.
Universal Animal Rage
Animal Rage. As a hardcore trainer, you need to take advantage of each and every workout. You don't have time for crappy, half-assed workouts. If you're half-assing it in the gym, you're half-assing your training and that ain't getting you closer to your physique goals. And it doesn't matter how great your diet is because to put first things first, business needs to get done in the gym. If you want to progress in this game, every rep counts. Every set counts. Every workout counts. The most hard-training, hardcore, elite bodybuilders demand optimum performance from every training session. To get the most out of the workout, one must tap into their inner rage.
Universal Creatine
There's bad creatine and good Creatine. Then there's great Creatine. What's the difference? Manufacturing quality and form. The only clinically surmised form is Creatine Monohydrate Powder. The best creatine monohydrate is manufactured in Germany. Our creatine monohydrate powder is a German creatine that's so pure, it's patented. It's one of the finest in the world. ATP (adenosine triphosphate) is the energy source for all muscular contractions.
*Is there a weight lifting routine I can use with this stack?
You can use any routine you like really, but why now the HRT routine itself? I am currently using the HRT program myself and I am getting the best gains I have ever had! I am hooked on this style of training. Very effective and a major butt kicker! So, if you want to go to the next level of training then try the HRT Routine today!
Click
HERE
to look at the routine.
Here's to a new you!
Matthew Eubanks