Now this is an awesome product! I gave this Amino Acid supplement a try and I was VERY pleased on all levels with it. The flavoring was by far the best i've ever had. I have tried many products like it and this one is now my new #1 go to product. The mixability was fantastic, flavoring second to none and the energy from it was a steady flow, nothing overpowering at all. It helped my workouts improve a great bit. I am currently 9 weeks out from the Missouri State Bodybuilding show in Springfield Missouri so my diet is really strict and I often feel tired and depleted. Optimum Nutrition's Essential Amino Energy helps me get through those hard workouts and I also enjoy the little "pick up" it gives me any time on any day! This is by far the best Amino Acid suppelemnt ive ever used.
What is it? Optimum Nutrition's
Essential Amino Energy
combines a powerful ratio of rapidly absorbed free-form amino acids with natural energizers and N.O. boosting ingredients to help you reach your next level - including muscle-building BCAAs and arginine to help support intense, vascular pumps. At 10 calories per serving, it'll make a big impression without denting your diet. Mix up Essential Amino Energy anytime you want to dial up mental focus, physical energy N.O. production and recovery support.
•Free Form Amino Acids for Rapid Uptake
•Essential Amino Acids including BCAAs
•Supports Recovery Before, During & After Exercise
•Train Longer & Harder with beta-Alanine
•Natural Energizers •Supports Nitric Oxide Synthesis
•0nly 10 Calories and 0 Grams of Sugar per Serving
•Mixes Easily
This product can be used pre/intra workout as well as anytime you want to accelerate recovery and boost energy.
Available in the following delicious flavors!
Blue Raspberry
Concord Grape
Fruit Fusion
Orange Cooler
Watermelon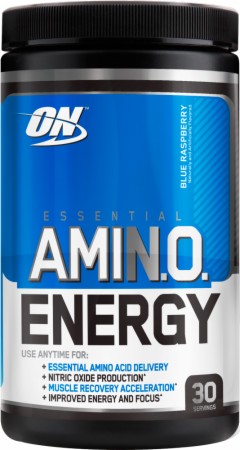 To purchase click HERE!
Here's to a new you!
Matthew Eubanks
Read more »