I wanted to do another review of this awesome product. I have tried several of the flavors Big Blend comes in, but my new love is the Chocolate Latte!! It mixes smoothly and no clumps. The flavor is second to none! By far the best whey protein I have ever tried.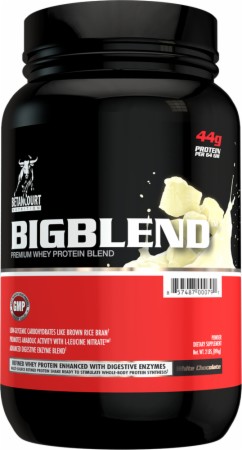 •
Multi-Species Proteins
:
Big Blend prepares your stretched and strained muscle fibers for an "anabolic storm" by feeding them precision-processed proteins from Casein, Milk, Brown Rice and Whey.
•
Amino Acid Derivatives
:
Amino acid derivatives like Nitrated BCAAs, N-Acetyl l-Phenylalanine, Glutamine Ethyl Ester HCl and L-Leucine Alpha-Ketoglutarate offer unique pharmacokinetic properties not available from food.
•
Digestive Stimulator's
:
Low-calorie, low-glycemic brown rice bran, carbohydrate and enzymes stimulate your digestive tract and help optimize the anabolic efficiency of Big Blend's many proteins and amino acids.
Serving size: 1 scoop
Calories per serving: 120
Fat: 2
Carbs: 3
Pro: 22
Big Blend is the very best Whey protein on the market in my opinion. You just cant beat the quality, ingredients, flavor and price.
Here's to a new you!
Matthew Eubanks