I've been using this product for the last 30days and wanted to post my thoughts on it. So far I am impressed with it. Strength is up, endurance is up and muscle fullness is noticeable. Mixes very easily with little to no left overs at the bottom, flavor is great and results match the claims.

Creature is a blend of four top quality types of Creatine. Creapure brand Creatine is imported from Germany utilizing a patented manufacturing process, Creatine MagnaPower is made up of Creatine and Magnesium bound to form Magnesium Creatine Chelate, Creatine AKG is Creatine bound to Alpha-keto-glutaric Acid, and Creatine Anhydrous is Creatine with the water molecule removed. Custom picked, these ingredients are a higher purity and will get absorbed into the body quicker to prevent bloating and intestinal discomfort. Creature also includes Vanadium Citrate to assure maximum uptake directly to the muscle cells. Creature is a core part of any training program to keep
you fit and strong.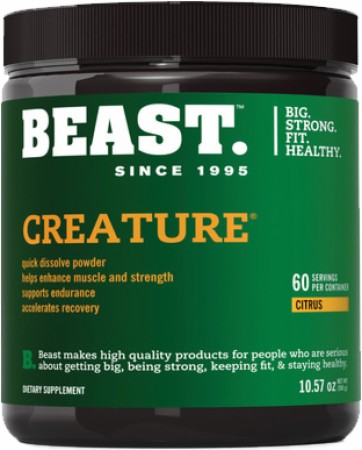 Click HERE to purchase.
Directions For Creature Powder:
As a dietary supplement, use 1 level scoop with 6 - 8 oz of water 30 min. prior to workout and again 30 min. after workout. On non-workout days take 1 level scoop in the morning and 1 level scoop in the evening.
Warnings:
Check with a qualified healthcare professional before using this product, or any dietary supplement, if you are under the age of 18 or if you have any known or suspected medical condition(s) and/or are taking any prescription or OTC medication(s). Keep out of reach of children. Do not use if seal is broken.
Here's to a new you!
Matthew Eubanks