I picked up a tub of Gaspari Nutrition's MYOFUSION. I wanted to do a quick review on this product and tell you what I thought of it. Let's start off with "What does MYOFUSION do?"

*It's a Cost Effective Yet Great Tasting Protein Powder Designed to be Used Multiple Times per Day Without Breaking your Budget.

*Optimal Ratios of Cross-Flow Cold Process/Microfiltered Whey Protein Concentrate & Isolate, Egg Albumen, and Milk Protein Isolate.

*It Contains A Powerful Proteolytic GaspariZyme Complex For Extreme Bioavailability Support and Maximum Amino Acid Levels In The Bloodstream.

*It has No Sugar Added, Aspartame Free with an Incredible Long-Term Taste Satisfaction

Frequently asked questions:

Q: When is the best time to take MyoFusion?

A: MyoFusion's blend of four proteins were carefully selected to be used anytime of the day. Whether it's after your workout, in the morning, or before bed, MyoFusion will provide you with your nutritional needs.

Q: Can MyoFusion only be used by bodybuilders?

A: No. MyoFusion can be utilized by anyone leading an active lifestyle with increased nutritional needs to support active recovery.

Q: Can women use MyoFusion?

A: Yes. MyoFusion is designed for anyone living an active lifestyle or trying to increase their protein intake which includes women.

Q: What separates MyoFusion from other great tasting protein powders?

A: Quite simply, Myofusion is not loaded with fats and sugars. Compared to most of its competitors it has one of the highest protein per scoop ratios which means you get more of what you want: protein.

How to use this product:

Depending on your individual protein needs, mix 1 to 3 scoops of MyoFusion with 6 to 18oz. of cold water or milk (6oz. per scoop) in a shaker or blender, or simply stir into solution with a spoon.

MyoFusion can be used anytime during the day to replace the protein requirement of any meal - or to simply supplement the protein requirement of any meal. Most athletes use MyoFusion2 to 4 times a day.

Although MyoFusion is designed to taste incredible by simply mixing it in water, MyoFusion can be mixed with milk or juice if you feel you need the added calories at any given time.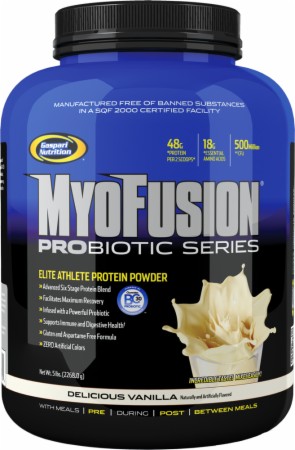 On a scale of 1 - 10 I rate this product:
Flavor: 9-10 VERY tasty
Mix ability: 9-10 Easily mixes
Results: 9-10
Overall: 9-10
This product is awesome. It has it all, great flavor, great ingredients, easily mixes and does the body good!
Here's to a new you!
Matthew Eubanks